Fujitsu personal System provides sales and customer support to large-scaled stores and corporate-only distribution companies for Fujitsu PC, cellphone, PC servers and more. After the introduction of LINE WORKS, the company have been experiencing increase in work efficiency and also promoting the reformation of the company working style. We interviewed System Development Manager, Mr. Kazuhiro from IT promotion Department, Deputy Manager Mr. Yukinori from Solution Sales HQ Tokyo Branch, and Mr. Kei from Solution Sales HQ, Solution Sales Support Center about the LINE WORKS introduction and after effects.
Tell us about your company and individual roles
Mr. Kazuhiro :
In IT promotion department, in which I belong to, the biggest duty is to manage company infra facilities such as PC, smartphone, phone, fax, and multifunctional printer. Other than this, our department is also responsible for developing and managing scheduling system as well as developing websites.
Mr. Yukinori :
Fujitsu Personals, like a trading company of Fujitsu products, sells Fujitsu products through dealers, not directly with end customers. I am in charge of the sales of the corporate-only distribution companies.
Mr. Kei :
I am part of the department in which responsible for in-house sales orders. We are proceeding from placing orders received from sales department to delivery and shipment management. It is also our mission to improve the workflow for our salesperson, encouraging them to work conveniently at the field.
What were the tasks to be concerned and how they were reviewed before LINE WORKS introduction?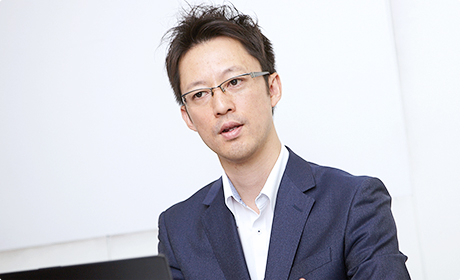 Mr. Kazuhiro :
Because our company mainly focuses on sales, most of our employees are salesperson and work outside the office often. As contacting tools, the salesperson took cellphone, PC, as well as mobile Wi-Fi which needed when connecting to internet at the field. We mainly used phone calls or email to share information. In order for us to check emails outside the office, we had to turn on the PC and use mobile Wi-Fi to access to company LAN. For this reason, it was uncomfortable when making contacts  and we were not well connected to one another.
Most importantly, as salesperson, we had trouble contacting our customers when we communicate through emails. Large portion of our clients are Large-scaled appliance stores and most the managers there are actually dealing with customers at the stores, not working at the desk. For this reason, it took a great amount of time for them to actually check the email. And, this was our great problem to be solved. We had several clients asking us to communicate via LINE. But, we could solely use LINE since there was a security problem of becoming shadow IT.
What were the issues before the introduction of LINE WORKS?
Mr. Kazuhiro :
The requests from both customers and salespeople to use LINE have increased over time. Also, the risk of shadow IT has increased. Furthermore, like other companies, we had a mission to highlight: 'reformation of our working style'. To solve this, we introduced LINE WORKS to our company. Since each salesperson of our company take control of several branches, they spend most of their time visiting those branches. For example, when they receive phone call from their client, they had to pull over the car. Also, if they want to check the documents, they had to turn on their PC and connect to the Wi-Fi. Like this, whether the request if more or less important, it required a lot of procedures and times for the salesperson to make response to the request. Not only this, but also they had to come back to the office to do the works such as printing the documents and so on. With all this, we were desperately looking out for a better solution to use working time efficiently. So, we decided to introduce a formal and official chatting tool that enables us to use time efficiently, available to use when working outside, and eventually help increase the overall company productivity.
We also reviewed several other chatting tools. But the reason why we chose LINE WORKS is that this tool is closely and well connected to LINE. By implementing LINE WORKS, we could lower the risk of shadow IT and for the corporate purpose, we could also be connected to our customers officially via LINE. We believed that such tool like LINE WORKS is mandatory to have if we eager to flawlessly deliver the information to our customers or manage the risks as well as working style reformation.
How was LINE WORKS introduction?
When first introducing LINE WORKS, we started with dividing the data into two types: the data we can send and the data we cannot send. For example, payment graph can be delivered to the customers' LINE, but the detailed information on the pricing should not be delivered. Starting by making such guidelines, we enabled all the employees to use LINE WORKS without feeling burdensome.
During trial period, we reviewed about how each department has been utilizing LINE WORKS at the regularly held executive meeting. Specifically, we shared opinion like 'our department is using it in this way' or 'how to use it under such circumstances' during the meeting. While sharing such opinion and tips, we also set the operation rules. It was easier for younger employees to get used to LINE WORKS due to its similarity. But, for some of the executives, they used the tools satisfactorily while the other was not. Once corporate president uses the tool, the employees naturally use the tool as well. By sharing tips and opinion on LINE WORKS utilization at the executive meeting, we were able to insist the entire department to use the tool with the idea to 'This time, let's our department use the tool such way'.
Moreover, it was notable point that LINE WORKS could be configured not to leave the data on the smartphone. We had concerns from the executives like 'what if information leaks when smartphone is missing'. However, by introducing the feature like 'Restriction for file download', we explained that the random person can view the file but cannot download if the feature is activated. As a result, we could alleviate such worries.
How exactly LINE WORKS is being used? Also, what are the effects after the introduction of LINE WORKS?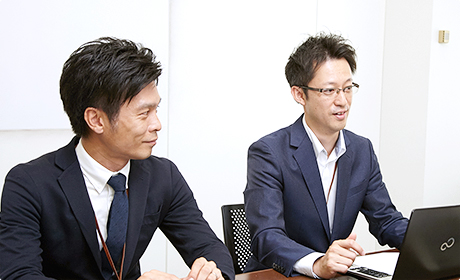 Mr. Kazuhiro :
The sales department activated connection with LINE and communicate with the customers including large-scaled stores via LINE WORKS. As an example of LINE WORKS utilization, when the area manager from headquarters send product distribution graph through LINE WORKS, the salesperson send the graph to the customer's LINE account. Previously, we either printed the document or we turn on the PC and send via email. After the introduction of LINE WORKS, however, we can deliver the information to our clients without going back to our office. We started to lessen the use of papers since we no longer have to print out things.
We had to send emails for each purpose individually including simple greetings and contacts in the past. But with LINE WORKS, we could simply done it with stickers. The tool has also enabled us to finish our work at the field by allowing us to report the work log even without going back to the office. Also, we could shortened the wasted traveling time and use the time efficiently instead. That is, we could change the way of working.
In the communication perspective, as we can deliver the idea and thoughts to the entire company through push notification, delivery of idea and thoughts have become more actively held than before. We are feeling that every voice from our employee is well delivered to the whole.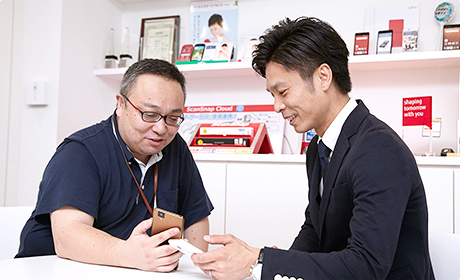 Mr. Yukinori :
Contacts can be made simply and fast via LINE WORKS. We are utilizing the tool to communicate with the department in which support managing the order and delivery of the products. For example, we used to have phone calls and emails to make contacts like 'Please check the order since we cannot dispatch the product due to its problem'. However, prompt reply to such message was often impossible, especially when the employees are giving out counsels. With LINE WORKS, however, we could immediately send the reply to simple matters, and eventually improved the contact speed.
Mr. Kei :
As we are responsible for supporting sales, we often share and communicate information about the order and delivery. It was unavoidable to experience delay in phone call communication if the communication partner did not answer the phone calls. It has become easier to prioritize tasks as we no longer have unnecessary waiting time. We are feeling that it is much easier for us to be connected to the sales after LINE WORKS introduction.
※ All details, affiliations, and positions specified were gathered at the time of interview.