IDOM Inc. (Former: Gulliver International) is Japan's No.1 dealer in the field of selling and purchasing used cars. The company has been able to handle customer requests faster and more accurately by introducing LINE WORKS as a means of contacting customers, which has also resulted in earning the trust from the customers. We interviewed Sato Ayaka, life planner of Smart car as well as manager of Kannananishiarai Branch, about the use cases of LINE WORKS and effects after the LINE WORKS introduction.
Tell us about your company and your role
Our company do sales business which buy and sell the used car. As a manager, I am responsible for store management such as managing sales, store employee schedules, and customer service status.
How exactly LINE WORKS is being used? Also, what are the effects after the introduction of LINE WORKS?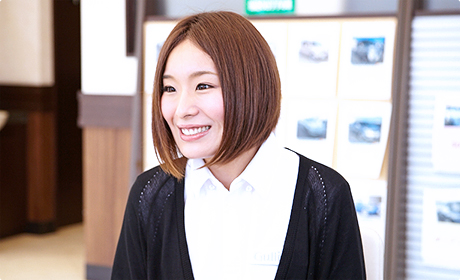 We are using LINE WORKS for daily communication with store staffs, area manager, headquarters, and customers.
We are checking consulting reviews with the store staffs in real time
For example, when customer visits our store and asks about the cars or asking for a consultation, the assigned staff often contact via LINE WORKS and ask questions like 'the client requested this, how should I do?'. We also use LINE WORKS when we visit the actual site to purchase the used cars. Once we visit our customers house, we can take photos of the car and immediately send them to the office. This enables both field and office workers to check the condition of the car together in real time. This way, the customer no longer have to wait. As a manager, it has become easier for me to take control of the works since I can check the condition of the consulting in real time.
It has become easier to communicate with headquarters about price negotiation
Overall process of purchasing used car is that once we send information through exclusively used application, headquarters notifies an appraised value of that car. And, if the customer does not satisfies with the estimated value and have to adjust the value, we negotiate its price with the headquarters via LINE WORKS. Previously, we held such communication through SMS with the company given cell phones. However, it was not easy for staffs to send SMS to the boss or the headquarters. Furthermore, it was difficult to find out whether they have read the message or not. Inside LINE WORKS, however, there is Read notification feature is provided as well as we can also send both photo or video. Unlike email which requires to turn on the PC to check the attached files, no extra effort is required when checking the file. If the amount of money negotiated goes beyond my approval authority, an area manager manages the deal. At times, there are cases when the manager could not reach their phone due to meetings. For this reason, such communication is held via LINE WORKS. The tool has enabled us to communicate comfortably, and most importantly, we felt that this kind of contact is most suitable for LINE WORKS.
We communicate efficiently with our headquarters by transferring photos
The headquarters often contact us with regards to management and installation of the store. For example, when we have to change the vehicle or store layout for newly held event, the headquarters send photos of other stores for reference. This definitely let us to have better idea on the overall store layout. We sometimes send photos of vehicle layouts as well as condition of banner installation and receive feedbacks.
We can communicate with our clients faster via LINE
Using the 'Connection to LINE' feature, we are using LINE when communicating our the customers. During the consultation, we ask 'is It okay to send related information through LINE WORKS?'. With this question, many of the clients gladly accept the suggestion and tell us their LINE account. Since we can immediately check the message delivered through LINE on LINE WORKS, faster communication with the clients is possible. Not just about the contract, but also the contacts regarding the aftercare have also increased.
How does the communication with the customer changed after the introduction of LINE WORKS?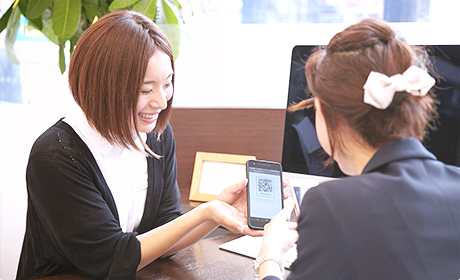 What changed the most is that we can make response to the requests from the clients faster than before. When customers send messages like 'Can we do this?' or 'I want to do this part as this' via LINE, we can immediately check the message and send the response. It is definitely faster than phone call or email. For email, we can only send the response after we come back to our own house and turn on the computer. For this reason, we could only provide the customer service only during the time frame we assigned. With LINE and LINE WORKS, we could both check and response immediately to the messages, and therefore, we could solve the issue on the day it has occurred.
Close connection with our customers has speeded up the time taken for problem resolution and the time it takes to sign the contract has also been reduced.
Since LINE is easier for clients to send messages to us without feeling burdensome, we are receiving many messages regarding various purpose, from asking simple questions like 'how to make spare key?' to tough and serious questions. Because LINE WORKS account is verified as an official account of the company, it also draws the feelings of trustworthiness from our customers. As quality of overall communication has improved, we can contact each other more delightfully than before. As psychological distance has been put closer than before, this has resulted in having a lot more customers who chose our company. And, we believe that this is what differentiates our company from other competition companies. We are pleasure to receive messages from our customers about automobile-related issues and concerns like 'I want to film my car' or 'I soon to have car inspection'. We are also receiving positive feedbacks from our clients that contacting via LINE is much easier to communicate with our company than phone call or email.
How does the communication with the customer changed after the introduction of LINE WORKS?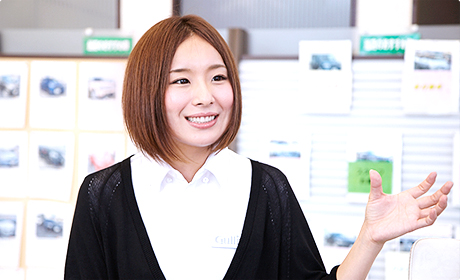 Communicating with headquarters or interoffice communication has become much more convenient than before. Previously, when we want to contact someone in our company, we first had to check the profile and find detailed contact information and either send email or make phone call to them after. And, this was extremely inconvenient. With LINE WORKS, however, we can simply look up the contacts information on the application and send message immediately. With this, it became convenient to make contacts to others.
Other than this, I am recently participating in an internal project at our office called 'Sakura Project', which pursues the greater environment for the women to work. The project is divided into several teams and where I am located is in charge of posting contents on the company blog. To make contents, I often have to make contacts to the employees whom I have never met before. Even under such circumstance, I use LINE WORKS group chatting room to contact those people conveniently.
※ All details, affiliations, and positions specified were gathered at the time of interview.